Blogging tools for successful content marketing
Creating content can be a challenge for some, while a walk in the park for others. When we create content, it's vital to ensure that the reader finds it valuable. If you are looking for content writing in India, you need to produce content that is authentic, unique, and can have maximum customer outreach. However, there are instances when your content may not be up to the mark at all times. In such a situation, you need to have the right tools to make the most of your content marketing. Let's take a look at some of the blogging tools that can help you create successful blog content.
Research tools
The first and foremost thing to be used when commencing a blog is a research tool. There are numerous research tools available for use. Here we have listed some of the most commonly used research tools that you can use:
With Google Trends, you get the news and updates in different sectors. Apart from that, you can also specify the field of research, and it gives you just the right research material that you want. To use this tool, you need to visit the Google Trends website and select the category and the country base of your research. When you do so, your search results of all the trending topics in your area are directly displayed on your screen.
2. Buzzsumo
Buzzsumo is a research tool that works on keywords. By keywords, we mean that the content gets searched by keywords that are typed in the tool. When you type in a keyword, the website searches for all the content that is relatively close to or accurate to the keyword phrase. This website can scan multiple social media platforms to understand which topic is currently trending across different sectors.
3. Klear
Klear is a bit different than any of the research tools mentioned in this list. The USP of this website is that it only focuses on social media. When you use this website, you can differentiate the data based on separate social media platforms. By different social media platforms, we mean that you can have holistic reports of trending topics on every social media platform. So, next time you want to target a social media platform and track the progress of your content marketing, you know which tool can be the most helpful.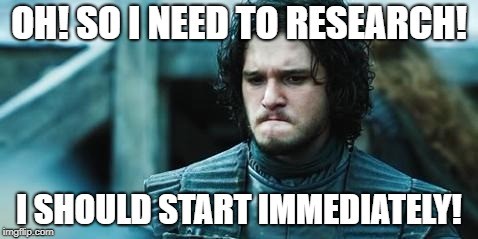 Image source: www.imgflip.com
Writing tools
This is one of the essential tools required for creating content. Without the writing tools such as Google docs, Microsoft Word, LibreOffice, content marketing would not be where it is today. These tools are useful and some of them have intuitive typing and inbuilt grammar checks to ensure that your content remains perfect.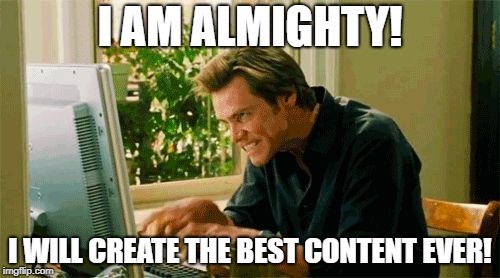 Image source: www.imgflip.com
What would happen if we didn't have the availability of some excellent grammar checking tools! Maybe most of our content would be grammatically incorrect, and all the grammar nazis would've bombarded us. Some of these grammar checking tools include Grammarly, and grammar checker, and small seo tools. These tools assist tremendously by pinpointing grammatical errors and how you can improve your skills for content writing in India.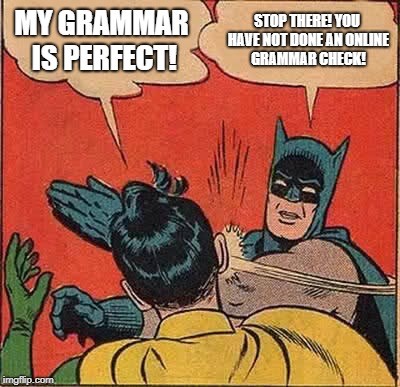 Image source: www.imgflip.com
Stock Images
You can choose to click photographs to be used on your blog. A blog with appropriate images helps in making the blog more interactive and explanatory. If in case you do not wish to use self-clicked photos, there are several websites available for free stock images. The sites that provide images for free of cost are Pixabay, Pxhere, Pexels, etc. These sites can be of tremendous help to make your website more and more attractive. Apart from stock images, there are other websites too that help you in creating your images. Some of these websites are imgflip, Meme Generator, Canva, etc.
Plagiarism checks
An essential aspect of creating outstanding content is to ensure that your content remains authentic and unique. There can be an instance when you have unknowingly copied something from a resource. When this goes undetected, your blog tends to get ranked lower. Search engines such as Google also penalize the websites that have plagiarised content. This penalty results in your site not being visible in the search results. The tools that handle the task of managing plagiarism are Copyscape, Small SEO tools, etc. that are freely available on the internet.
Analytics
An immensely valuable factor which improves your content marketing is analyzing the number of people that interact with your blogs. Analytical tools help you in understanding how your blogs are performing and how many people are viewing your blogs. If you want to analyze the number of people that have interacted with your website, you must use Google Analytics as it provides accurate information about your web traffic. Apart from a site, you can check how your blogs are performing even on social media platforms. Each social media platform has its own analytical feature. These analytical features provide accurate reports on how many people have viewed, shared, and liked your blog.
The tools as mentioned above can help you in making blogging an easy task. You can choose from any of these tools to make sure that your content marketing benefits from your blogging. So next time when you start blogging, you know what tools to have at your disposal.