Content Marketing Services to make your Business Successful
If you are a business that wants to scale up its operation with the help of content marketing, then you have arrived at the right place. You need content for your website pages and blogs, social media profiles, emails, white papers, research papers, and the list goes on. This is exactly what Spacebar does- creating content. We are a bunch of young minds typing our ideas for the success of your business. Here's what we do.
We Create All Types of Blogs
Business blogging is not a standard process. There are various types of blogs one can write to promote their business in different ways. At Spacebar, the different types of blogs we write include:
Promotional Blogs

Guest Blogs

SEO-friendly Blogs

Technical Blogs

Thought Leadership Blogs
Apart from these, we also create content for Whitepapers, SlideShares, Wikipedia Pages, etc. All under one roof!
We Write in Multiple Tones
Target audiences are never the same for two different businesses. Based on your business objectives, our content writing team has the ability to write in different tones. The tones we write in are:
Casual

Formal

Professional

Technical
We Write Grammatically Correct Content
Content writing for different types of businesses needs different ideas. So we have filled our space with writers who know the right words to bring your business in the eyes of the right audience. They use fine vocabulary to string blogs that will touch the pain points of your audience.
We Provide Customized Packages
No two business are alike. Some are large, some are small, some sell apple and some sell ball. We do not differentiate in any type of business. You bring your business to us, and we will make sure to create content that will help in building a reputation for your business.
We Create Authentic Content
Content if copied is not the king, but a pauper. Therefore, we provide good quality, well-researched and 100% original content to our clients.
We Deliver on Time
In a world where everyone is running out of time, we ensure we are on time by setting strict deadlines internally and delivering content to our clients as per the promised timelines.
We Have Longstanding Experience
Content is not something you can begin writing all of a sudden. You need to have knowledge about content writing to write matter that makes sense and serves the purpose. Spacebar has more than 5 years of experience in creating content for various kinds of business.
Here's what our happy clients have to say about us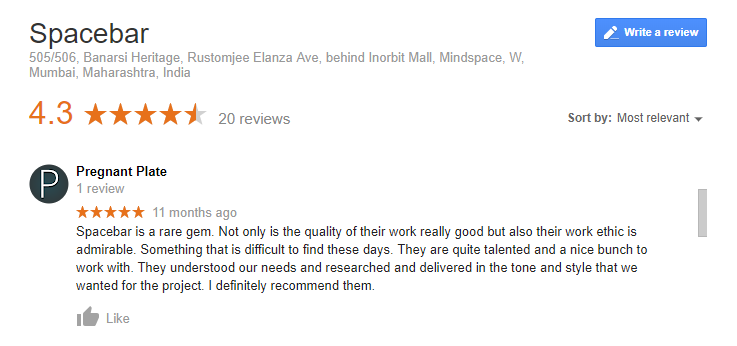 So if you are looking for well-drafted content with authentic information and a content package that fits your business, get in touch with the content creators at Spacebar.