Why you should have content on your website?
In this digitally driven world, creating a footprint on the Internet can help a business stand out of the crowd. Whether you've got a decade of experience or you're a fledgling business, promoting your business online would help you drive website traffic, engage with more customers, and build credibility and authority in your field. Companies aiming for an effective online presence for their brand or effective lead generation must focus on content for website. The exposure of businesses on the Internet, with high-quality and keyword-rich content, helps a website rank higher on the SERPs. And when that happens, it helps a business to:
Reach out to more crowd,

Boost sales,

Enhance visitor engagement,

Save time and money, and

Build an impeccable brand reputation.
And the key to all these various benefits lies in having good, informative, and relevant content on your website. Content does not necessarily mean text only. Content can, and in fact it must, also include videos, images, designs, or any other visuals that give rich and complete information and user experience to your customers. The best practice is to have a mixture of text, graphics, pictures, and videos that can attract customers, capture them, and influence them to take action further.
Types of content for website
Home – Writing random text and adding some images would not differentiate your website from that of your competitors. For a great website, the first step is to include a home page containing content that is crisp, clear, and relevant. With some creative appeal, website creators should create a website that grabs the attention of their audience without being overbearing. The homepage of a website is the mirror image of the brand. The ultimate aim of a homepage is to persuade the visitors, who stumble upon the site to take action. Take the example of the image shared below. Though simple, the home page below gives relevant information to the visitor in only a few sentences. Not to forget, the website design adds to the beauty of the homepage.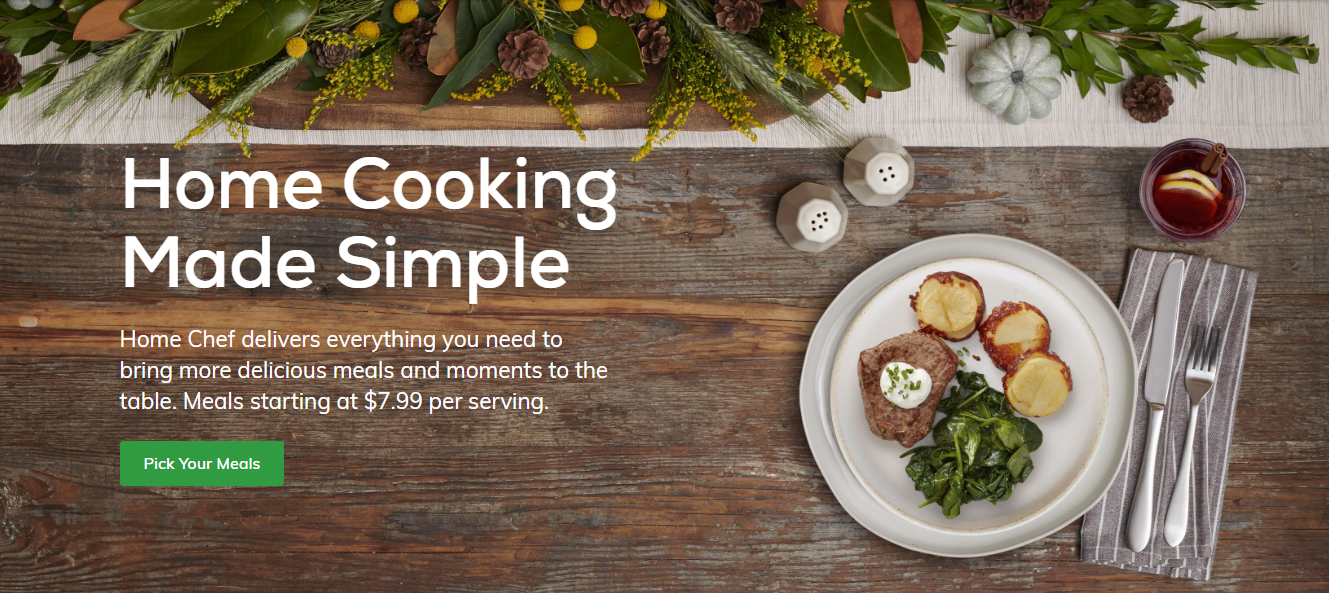 This page does look beautiful!Image source: www.homechef.com
Packages – By including a products/services/packages section, you get an excellent chance to explain things that you do, offer, and sell. In simple and explanatory words you should convey the service you provide to the customers. Let's take the example of content writing and marketing agency, Spacebar. The agency aims at providing services like creating website content, developing brochures, handling social networks, writing all kinds of blogs and articles, and offering a mix and match of other curated content stuff for its clients.  Here's how their packages page looks: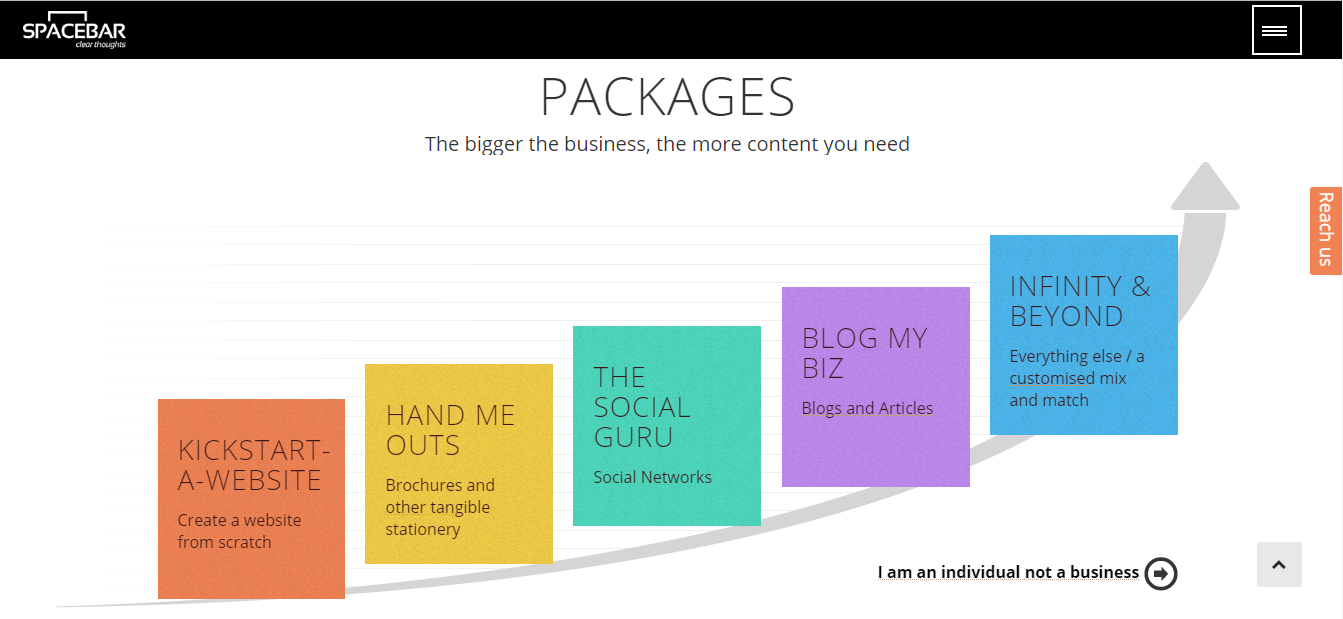 Case study – Case studies is an ideal section where you can build trust and credibility with your clients, vendors, or any random visitor to your website. Random visitors also play a vital role in our lead generation process, by the way, as they can inform people in their circle about the work you do. The section holds excellent business value because it actually gives proof of your work. Without case studies, the claims made on the website will not make any sense. Taking the example of Spacebar again, look at the case studies they have included and how they have so nicely explained the work they've done for their clients. The first image below shows the case studies, whereas the second one contains the story of their journey with the client: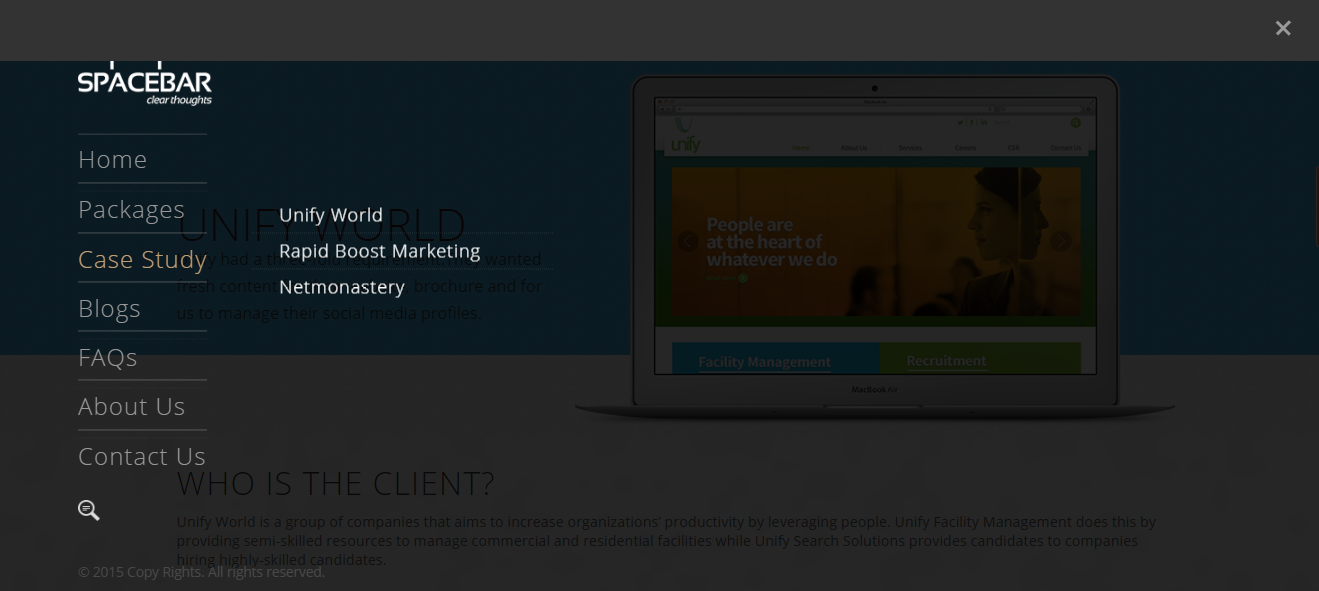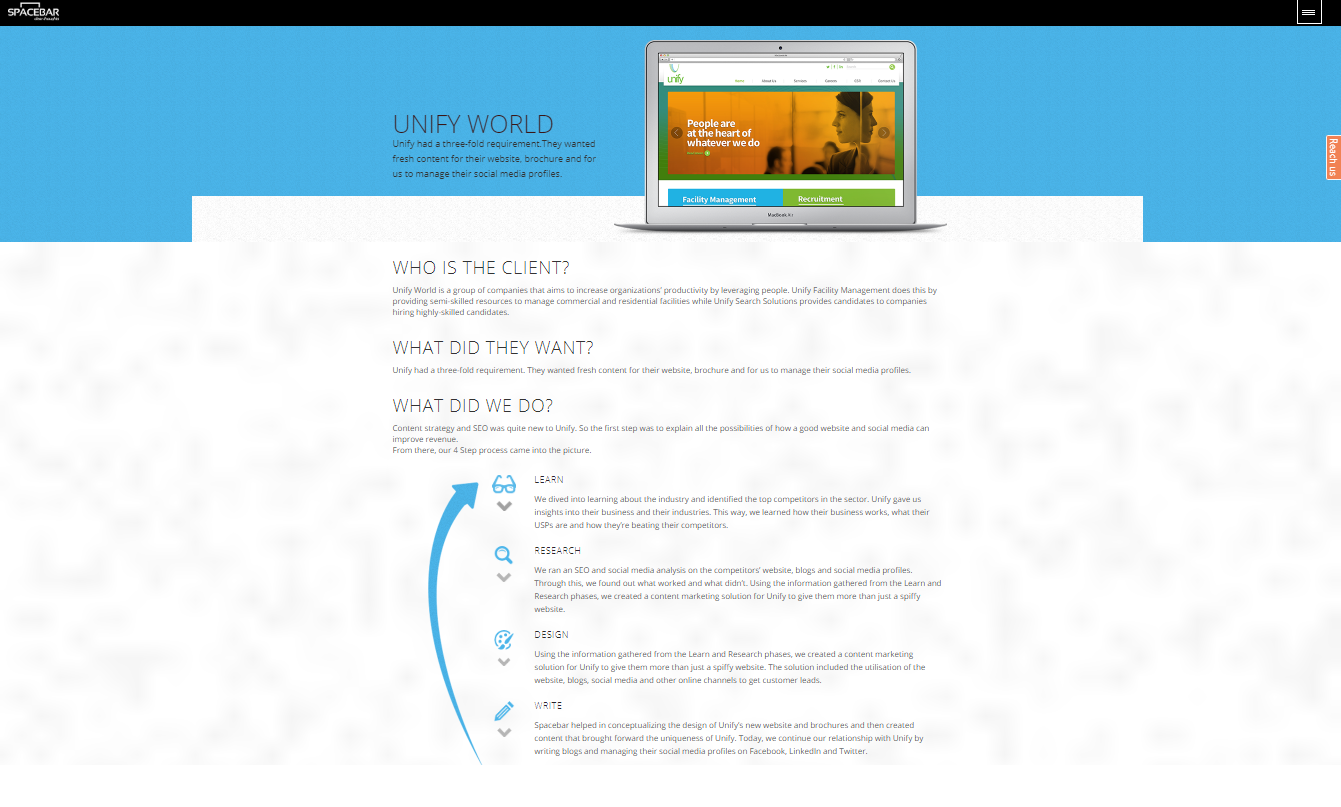 Blogs – The section where CEOs, CIOs, CMOs, or employees can talk about their product or service with experience in a story format. The best place where people can share personal perspectives, give guidelines on business strategies, provide pure information on business success, day-to-day business insights, and so on. More than 50% of marketers include blogging in the priority list for content marketing, while more than 40% of people skim through blogs if we believe the sources. Hence, including the blog section would definitely boost the traffic, thereby enhancing the leads and sales generation. Take the example mentioned below,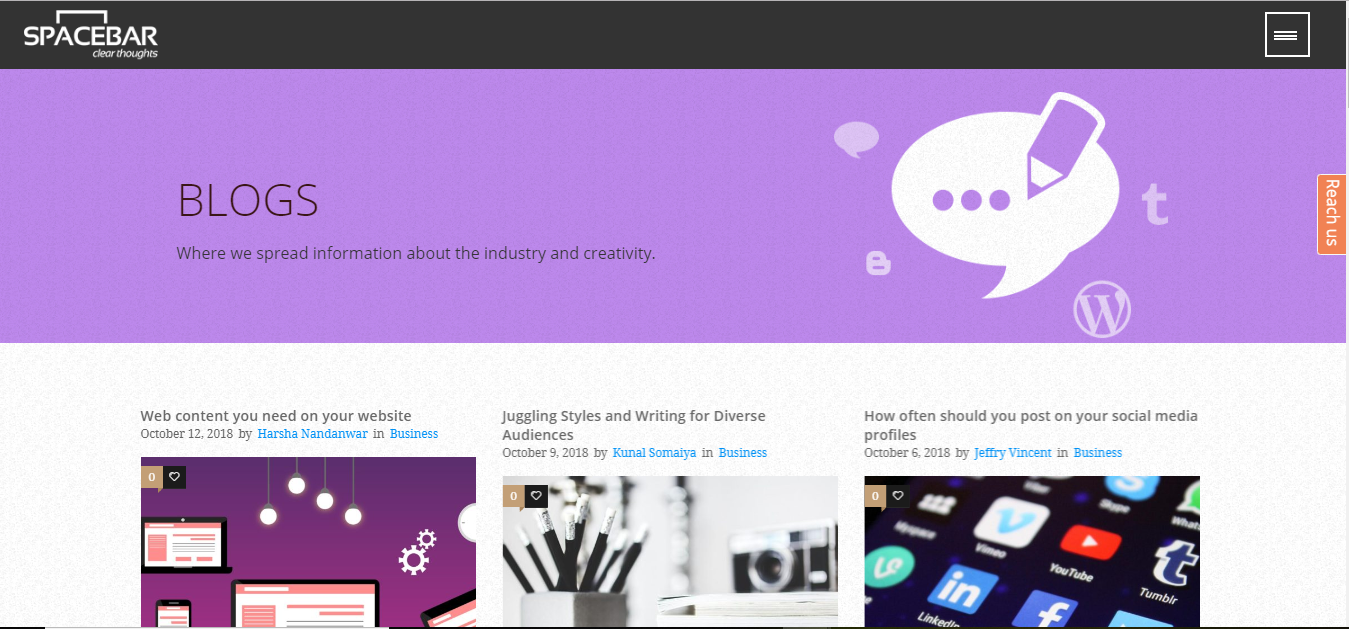 FAQs – Before a visitor decides to buy your product, a lot of questions might pop into his head. Having a well-constructed, content-rich, and meaningful FAQs page would help businesses save a lot of time that would otherwise get wasted in answering all business-related questions. As and when businesses understand their customer requirement or alter the product or service delivery, they must update the FAQ page too.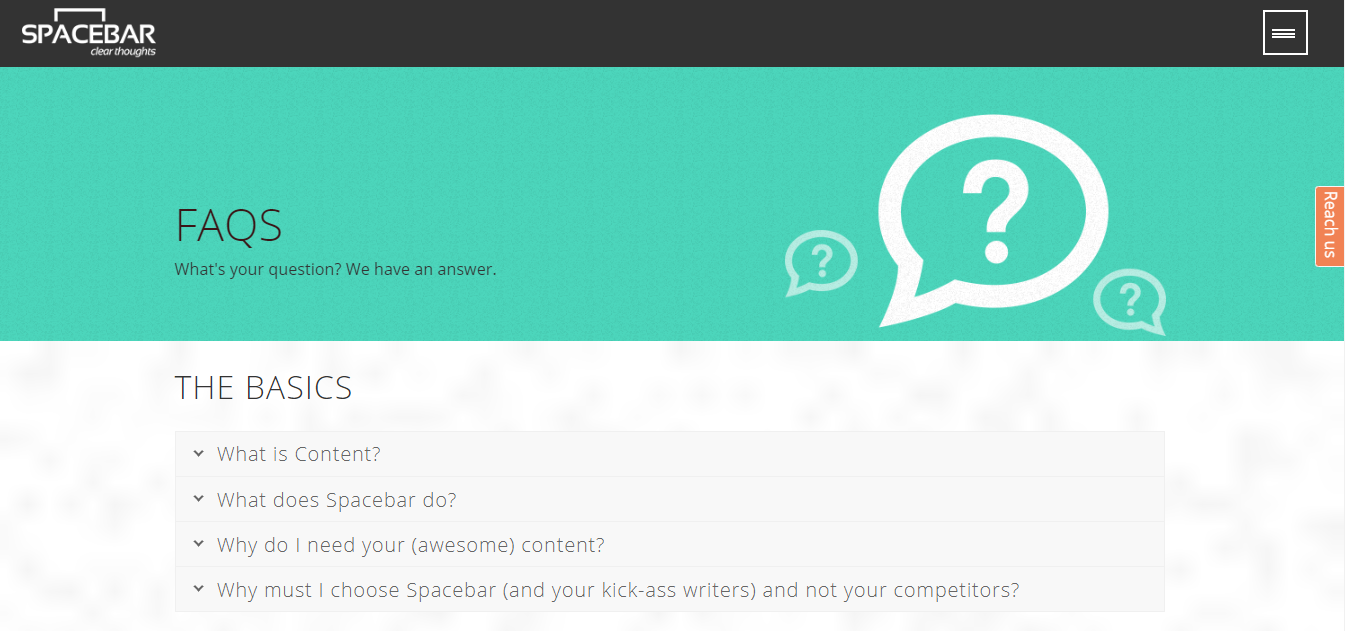 Multimedia – If visitors like your website, they will tend to spend more time there, obviously. A website having only text will provide the required information, no doubt, but it will not give a pleasant experience, for sure. There are chances that a visitor bounces back without even reading the entire information. Instead, with the inclusion of multimedia such as images, videos or gifs, you can increase the visitors' visual aspect, engage them, and leave an impact that would stay for an extended period. For example, check the screenshot shared below, which has text with an image.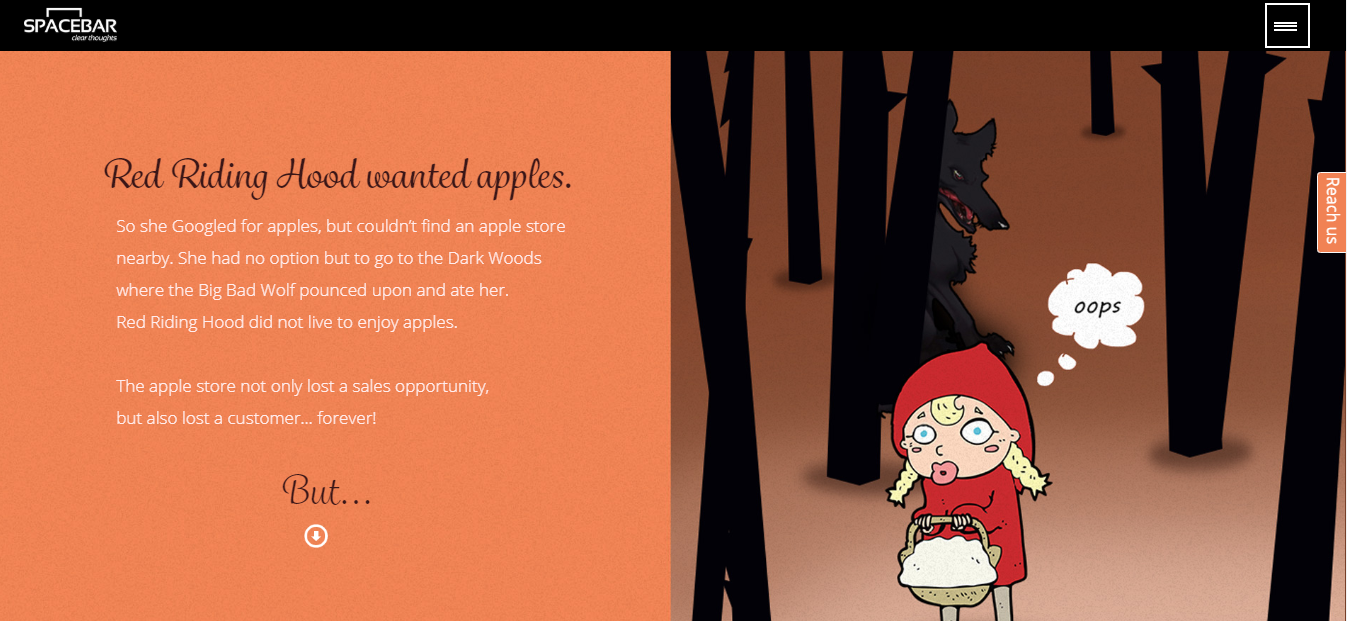 Remember one thing, content for website is essential for increasing the cash flow for your business. By including all or most of the sections mentioned above with precise content and mesmerizing visuals, you can create an effective website.