The relationship between content writing and SEO
I remember that during the first few days of working as a content writer in a content writing agency in Mumbai, my editors and co-writers were always talking about 'keywords' and 'SEO.' As a new writer, I didn't know how important these terms are in a content writer's job. After hours of research, I realized how much thought and expertise is required for every blog post whether it's creating topics, writing, or scheduling uploads. What I also noticed is that SEO and content writing are intertwined, just like strands of human DNA, to help build the online reputation of websites and online businesses.
61% of marketers claim that improving SEO and growing their online presence organically is their top priority for inbound marketing. Hence, creating SEO-friendly content is essential for building your brand in the digital era. So, I am sharing all the wisdom that I have gathered through research and through personal experience that can help you strengthen your content writing game.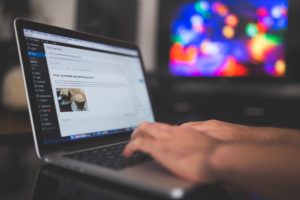 Image source: https://www.pexels.com/photo/blogging-blur-business-communication-261662/
Know your audience
Knowing and understanding your audience is the primary step before writing interesting content. Understand the purpose of creating content for your website whether it is selling a product or service, attracting clients or building a community of like-minded individuals. Study your website's analytics to gain insights into your audience segment and to figure out what your readers are interested in. Creating content that resonates with your audience, improves their engagement with your website, which helps you achieve a higher ranking on Search Engine Result Pages (SERPs).
Create informative content
Content is the most critical factor for enhancing your SEO efforts. Every other technique of search engine optimization will only take you so far. Your content is your voice. It enables you to connect with your readers. Unsatisfactory content will only result in a higher bounce rate and a lower conversion rate. Hence, every content writer must create informative, interesting, and engaging content. Write compelling content on various topics that are relevant to your website and present your readers with actionable takeaways. You can incorporate various types of content in your website such as blogs, articles, listicles, in-depth guides, and white papers. Such content will help build authority and credibility for your website. Furthermore, billions of users search for information about numerous topics on search engines. Such users are an opportunity for creating a strong reader base for your website.
Include relevant keywords
If you are a content writer or are planning to be one, you might have already heard about the importance of keywords in content writing. For optimal usage of keywords, research relevant keywords that obtain higher rankings on SERPs. Another crucial aspect of writing SEO-friendly content is the density of keywords. There is no specific method to calculate the right keyword density for your blog, but 1% to 3% of the word count generally works. Also, overstuffing keywords will lead to an over-optimization penalty and the website will get de-indexed from search engines. Hence, maintaining an adequate density of relevant keywords is the most optimal approach for SEO-friendly content.
Add related links
Every popular blog includes links to navigate readers to other relevant and informative articles. Adding internal links will help engage readers with your website, longer. External links lead readers to related content, such as in-depth guides, sources, and additional information about the topic. For example, external links like the one used in this sentence explain the importance of internal and external links for SEO. Such links enhance the credibility of your content and may also generate backlinks. Hyperlink appropriate anchor text to maintain the flow of your content and to improve search engine optimization.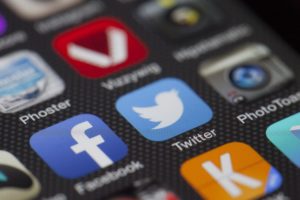 Image source: https://www.pexels.com/photo/android-app-blog-blogging-267389/
Implement off-page SEO
After following all on-page SEO techniques, off-page SEO will give an extra push to your website. Use social media to promote your content. Your audience may share your posts with their friends and followers. This would drive more traffic to your website. Additionally, guest posting and collaborating with other blogs will help attract more readers. Enabling blog commenting will increase the engagement with your readers.
Even after following these guidelines, content writing and content marketing can be a complicated task. Therefore, outsourcing content writing to professionals is always the best approach. If you aim to create a successful online presence, reach out to a content writing agency in Mumbai, today!