How to Create Captivating Content for a Website?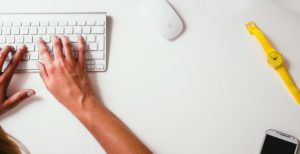 Image source: https://pxhere.com/en/photo/912419
In the modern era, a website is your virtual office. Your content for website works like a real host for your company. If used properly, your web-content can be the game changer. So, your content apart from being informative must be engaging and spontaneous. If your content is only informative and monotonous, your site may look professional but seriously how many visitors would find it engaging?
Remember, the content on your website always appears as an expression of your company culture. Hence the million-dollar question is – should your content be cool, sophisticated or professional? You must think of the ways to make your content for website more attractive, interesting and captivating. It's not going to be a cakewalk, but you don't need to drop your shoulders either. Cheer up! Let us ease your workload with some tips:
Perform In-Depth Research
Do you think that 'research' is only for the scholars? Well, you may get surprised with how it can be critical to your content production efforts. Put on your reading glasses and research into your industry. Get acquainted with the latest developments. Spy on your top competitors, follow the influencers and consume as much information as possible. You will understand the importance of your research while creating the content of your website. The flow of ideas would be directly proportional to the depth of your research.
Implement an Effective Strategy
Each industry is different, and your content for website should focus on the products and services offered by your company. Your website represents your company and carries your brand value. You should strictly provide the relevant information to prevent any dilution of your brand image. 
You must know your consumers like the back of your hand. Feel their pulses and produce content accordingly. Show the human side of your business and let the consumers interact with you.

Image source: https://en.wikipedia.org/wiki/File:Feedback-loop-general.svg
Act on the Audience Feedback
Listen to your audience. Paying attention to their constructive criticism is far more important than basking in the glory of their recommendations. Success is a poor teacher, so focus on the limitations. Implement the changes and seek the feedback again. Maintain the continuity of this loop, and you will find yourself churning more engaging and quality content on a regular basis.
Engage Your Team
It is imperative that you seek contribution from your team members especially the 'subject matter experts.' The content on your website would contain numerous topics. It would be wise of you to be open and welcoming to every input. As a positive side effect, you will enjoy a better rapport with the contributors.
Hope that the tips above have installed the necessary confidence in you to take the challenge head-on. In case you are still hesitant then feel free to ring us; we will be more than happy to help you. Cheers!