5 tips to follow when posting on Instagram
Regardless of whether you are running a brick and mortar store or having a web presence with an e-commerce business, your ultimate asset is your customers. And to intensify your customer base, nothing more matters than a highly effective marketing approach. The approach should be such that it attracts people and excites them to buy your product, which was always the case. But, as millennials and centennials prefer more engaging, personalized, and creative content, the modern-age marketers are expected to tweak/transform their marketing efforts. Here's where the concept of social media for business made sense to everyone.
On an average, people spend five years and four months on social media platforms. One such social media platform that has opened new gates for companies is Instagram. It is quite astonishing that there are 25+ million profiles worldwide on Instagram. With Instagram, companies can rightly reach out to all prospective customers with crisp and relevant content, and most importantly, at the perfect time. Even though using Instagram for business is one of the best ideas to attract potential customers, don't forget that you are not the only one on the platform. There are 2+ million advertisers already on Instagram. So, to stand out of these smart guys, you will have to use the platform rightly. Let's help you to get there right.
Tips to follow when posting on Instagram
People share their life stories, their passions, and connect with various brands that matter to them. Instagram mania opens up clear opportunities for companies to drive their business results. If you are one of them who wish to make Instagram your marketing channel, then you should consider all of the tips mentioned below.
1. Use hashtags
Hashtags, one of the most effective marketing tools, turned 11. It is considered to be one of the simplest forms of marketing methods to increase social media engagement rate. It helps your posts to get the required visibility when searched.
For example, you are running a solo business of cakes. You bake cakes at home. You have started using Instagram to connect with your customers. Hashtags will actually act as a medium, connecting you and your customers. How you wonder? If you include hashtags like #cake and your customers also search for the same, your post will pop on their screen depending on your followers, likes, and location. Check out the image shared below. People typing #cake will see Instagram bombarding them with posts that have the same hashtag.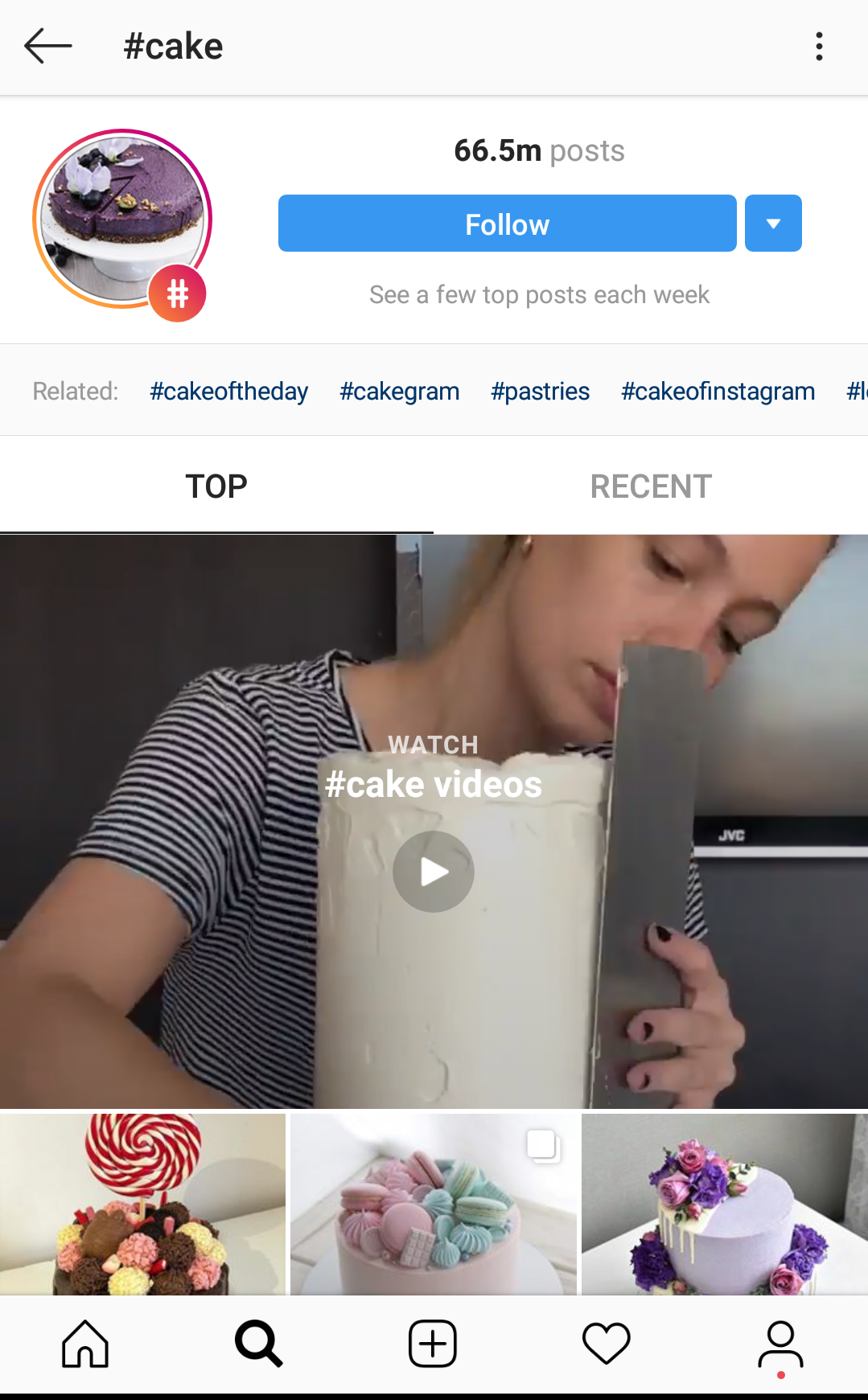 2. Include location
When brands post a picture/video, it can be seen by everyone who happens to stumble upon the post. While such a tremendous amount of traffic coming in is actually great, some brands may wish to connect only with the nearby prospects and have a granular customer base. To reach out to only them, geo-tagging is one of the most-effective features. Fortunately, Instagram has this incredible feature, allowing customers to view posts according to locations. When people search for a particular location on Instagram, they will be provided with all the content that is posted for that location.
Posting a picture/video with the location will help brands to get 79% more engagement than those without.
3. Prioritize on aesthetics
It goes without saying that appearance of posts matters the most. Nobody will actually like to click on a post if it isn't aesthetically impressive. If you are advertising your product on Instagram, make sure that the posts are not blurry, displeasing, and boring for the audience. Instead, include a combination of colorful shades, patterns, and finishing to make Instagram feed look more alluring. Instagram feed is the best place that shows a glimpse of your brand and products, providing a good opportunity to leave a good impression on your customers.
4. Write captivating captions
Blank posts will look incomplete and make no sense to people. They will not be able to comprehend the true meaning of the post. Check the example shared below. Spacebar, the content writing, and marketing agency, posts pictures with well-written captions that not only inspire people but also connects with them emotionally. That's the power of words.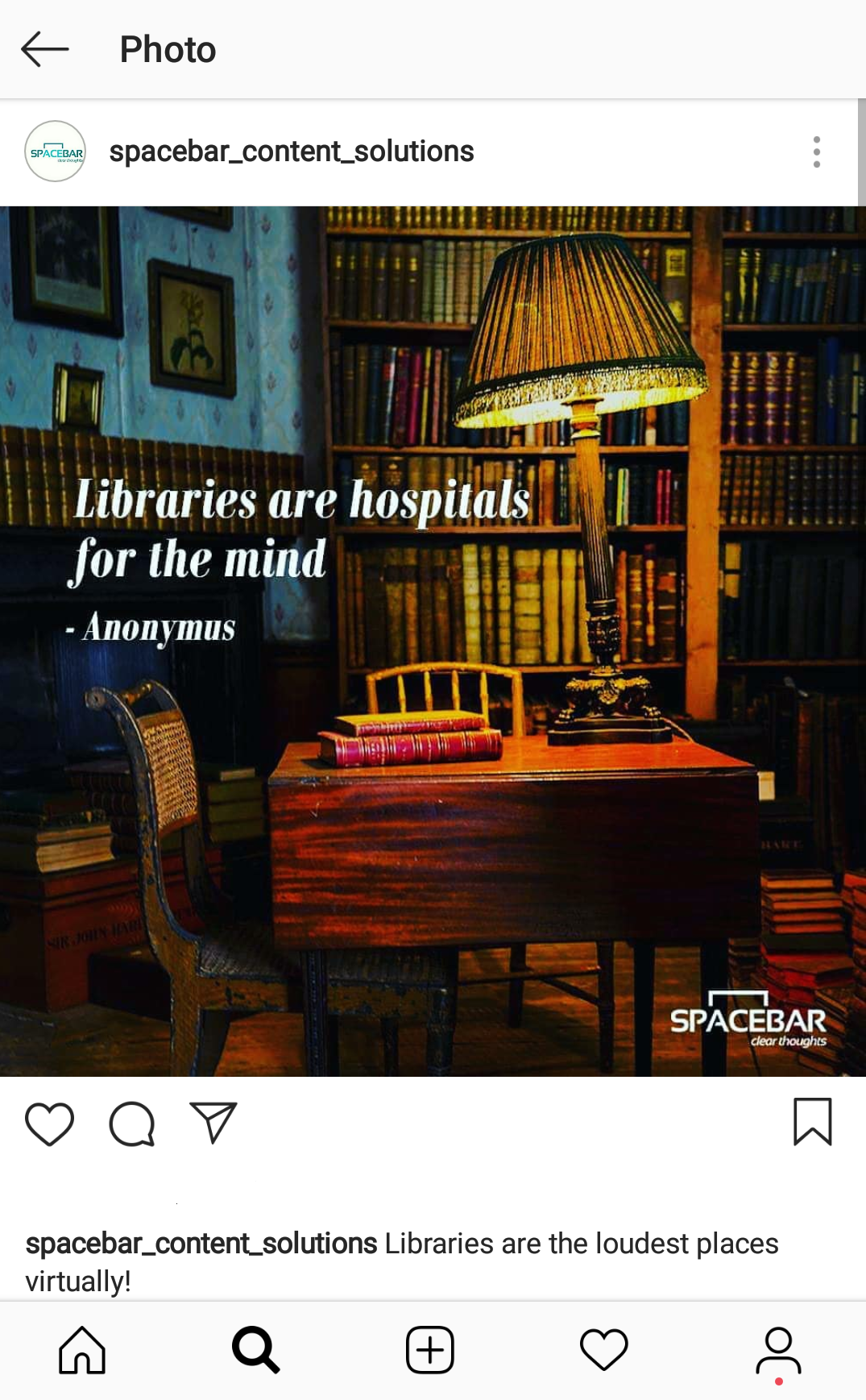 5. Put stories to create excitement
Instagram hopped on the story bandwagon recently, where the user is allowed to post stories that automatically get erased after 24 hours. This amazing Instagram feature can be used by companies to highlight their product and service before it is launched. There are additional options that give businesses the ability to ask questions, start a poll, or set timers. Such simple yet effective strategies help businesses increase their customer engagement rate and interest levels.
With an actively expanding customer base, Instagram is becoming the right platform for businesses to carry out marketing efforts. Marketers actually get plenty of room for showing off their brand style and tone, and most importantly creativity. Using social media for business is not a flash in pen, mind you. At first, it may seem to be a daunting job. But once you master the art of marketing, you will see yourself rising above competitors, for sure. To help you with that, we are here with our tips.