Interning- A contrast to the myth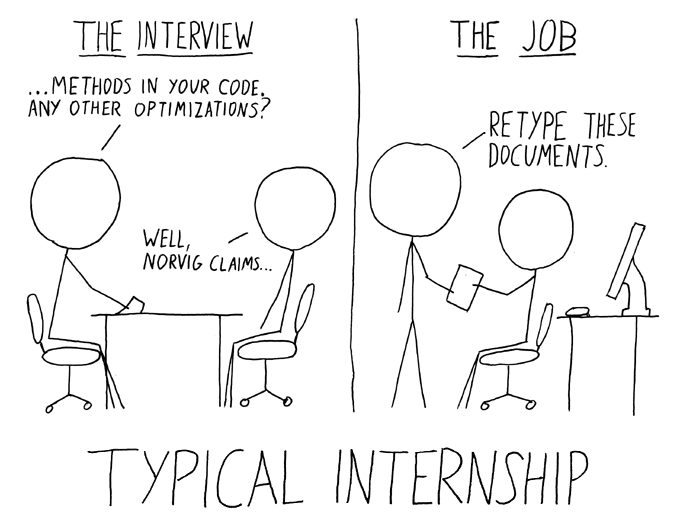 "I find the entire concept of an internship program unfair to the interns", Alpana said " We never had people scrambling to find internships, when I was in college." " May be it is because the diversity in the courses that are taken up today. A self financed degree like BMM or BMS needs you to have some extra perks on your CV along with it" I replied. Tristan, who was habitually chuckling all the while, found in him to come out of his metaphorical padded cell, and said " It is more of a give and take deal. You give your time and efforts, you get paid monetarily and with experience." " The giving is too big a bargain for what you get back" Alpana replied.
At that moment, I swiveled my chair back to the computer to resume my day's work at Spacebar, a content solutions firm run by Alpana Mandal and to hear some say, boosted by Tristan Fernandes. Okay, no more flak to the guy, after all he just made a list of things that he would make me do in lieu with the myths that surround what interns are for, but never acted on it.
The How?
After wasting nearly 45 days sitting at home filling snot bubbles, snoring, I decided to look for internships, since that was what most people in my class were up to. I sent in a couple of applications, through the net and Spacebar was the first to respond. Okay, I admit it was also the only one to respond. And as if the Gods know my degree of dedication, the office is right here in Malad.
The Why?
There are people I know who probably are into their internship just for the recommendation letter and the certificate. They'll do any task, regardless if it's productive or otherwise to just muscle through their internship period, grab their pay cheque and certificate and be done with it. The day I gave my interview and was informed that I was selected, I went back home and I reflected as to what I can derive from this opportunity that I've opened up. And nothing specific came back to me. That is when I decided to unlearn and strip myself of all the traits and working styles I had adopted while working elsewhere on a completely different level. I realised that only when I take my current garb off, will I be able to gauge, understand and inculcate professional work culture.
And plus it was writing. I like to style myself as a writer and have flair for it, so it sounded a win-win to me. And man, did it surpass its expectations.
The Office
Walking into office number 213 at the plush B2B centre, the first thing that catches your eye will take you to every child's once fantasy playground. A gigantic bubble wrap barrel. Try and finish reading this article after that image. In case you're wondering what use a content solutions firm has of bubble wrap, we share our office with Smile Drive, an E-commerce firm. Although they push us into a 4 computer space, the people are a stark contrast to the word unwelcoming.
The People
I talked about Alpana the understanding boss, Tristan the psycho superior, let me run you through a couple of other people who make working here a homely experience. Sudhakar and Rohish from Smile Drive, whom I got versed with faster than my work are two people that give you the occasional dose of laughter. There is Pradeep and Sayak, who own Smile Drive, (And according to Alpana, Sayak is 'by the way' her spouse ) who seem distant, but are warm and always looking out if I need some help. Samir and Tianna, who are off on a business trip, are also in a way well connected with me now, since I handle the back office for their daily appointments under Alpana and Tristan's guidance.
The Experience
While I got a hang of how to make business calls while setting up plans for Samir and Tianna, it also taught me pressure management and importance of planning. Because of every appointment I can't make, these people lose time and possibly could've lost money. Writing here is a very introspective experience for me because all the while my style has been informal and elaborate. Daily comments and suggestions from Alpana and Tristan has helped me consolidate it better. And the research is the best part. I get to read a plethora of articles and learn things I was completely aloof from. I now know about what happens in Edmonton, Canada, what is the difference between Halal and Kosher meat and so much more. And they will pay me for this.
So if anything that breaks the ware house and table mop myth that goes with internships, it has been Spacebar for me.