How to write an effective ad copy
The Balance, a well-known financial publication, summarizes the definition of advertising quite aptly. It says, "Advertising is attempting to influence the buying behavior of your customers or clients by providing a persuasive selling message about your products and/or services."
In present times, advertising has continued to retain the same meaning but has multiple channels to deliver this message. With the onset of digital advertising, we no longer see interesting advertisements only in newspapers, magazines or billboards, but also on various social media platforms and websites. And thanks to Google Analytics, we now also see ads on the web that are tailor-made for our requirements.
You may have visited the website of a local dental clinic a few days ago, and now you continuously see banner ads of the same site on various web pages that you visit. Another example of this could be when you check for airline tickets to a particular location, a few days later you would receive alerts from various airline marketplaces like Yatra.com, Makemytrip.com, and Goibibo.com regarding the same journey. This just goes to show how frequently businesses are using all kinds of avenues to communicate various forms of advertising content. Based on the medium of communication (digital, print, television, radio and outdoor), various creative professionals are involved in the process of advertising content writing to curate relevant content.
Let's take a look at a few strategies to write a compelling ad copy:
Back your product with a social message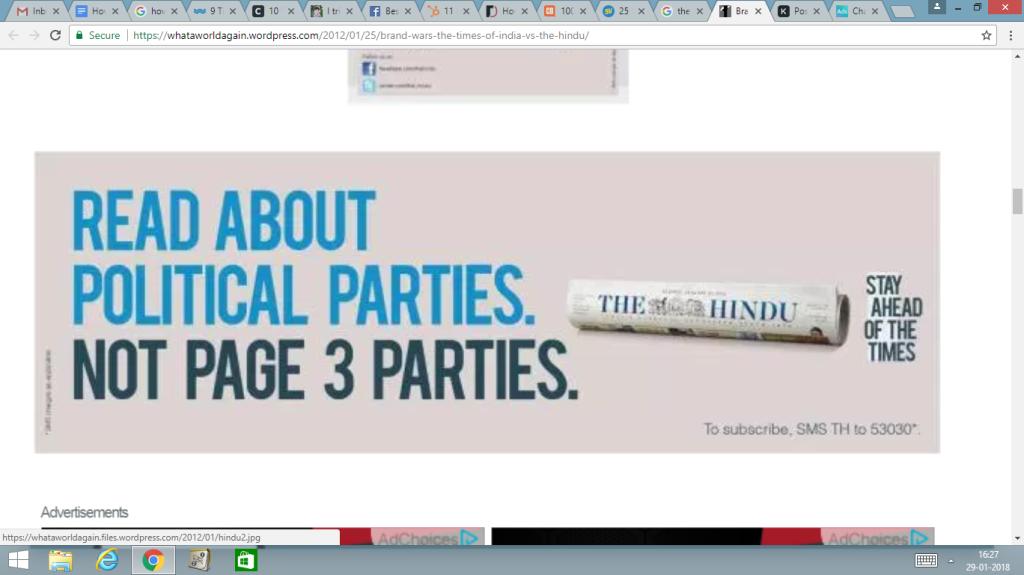 Source: https://whataworldagain.wordpress.com
Including a social message in your ad copy can be a powerful way to reach your target audience. The Hindu ad featured in the screenshot above, uses an impactful tagline. And, simultaneously also takes a dig at the rival newspaper – The Times of India. Another example of this would be the Tata Tea 'Jaago re' ads. Both the print and broadcast ads of the campaign focus on women empowerment.
Using a social message in your ad copy, also adds a sense of goodwill to your brand. It gives your customers the impression that your brand has a social conscience.
Use a compelling story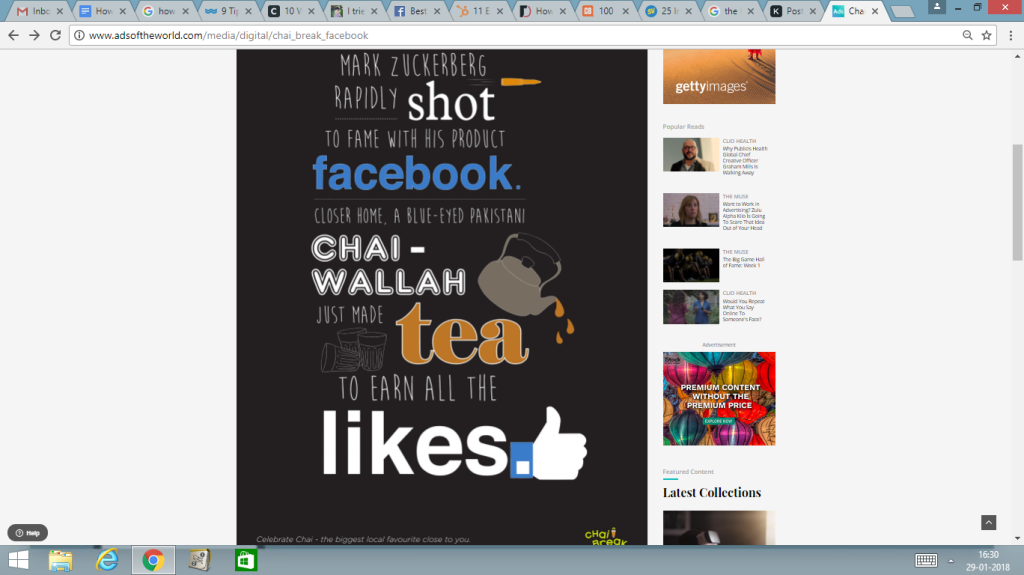 Source: http://www.adsoftheworld.com/
From the prehistoric era, people have shown an inclination towards reading and creating stories. Various stone paintings of the caveman formed the basis for historians to understand the lives of early humans. Even today, we are attracted towards various forms of art like cinema, theatre, literature, and paintings because at some level they always tell a story. Stories engage people because they enable them to see things that they aspire for or are reflections of their own lives. Advertising has time and again used this tool of storytelling to attract the audience. The ad in the above screenshot was designed for a cafe brand called chai break which used facts to weave a story.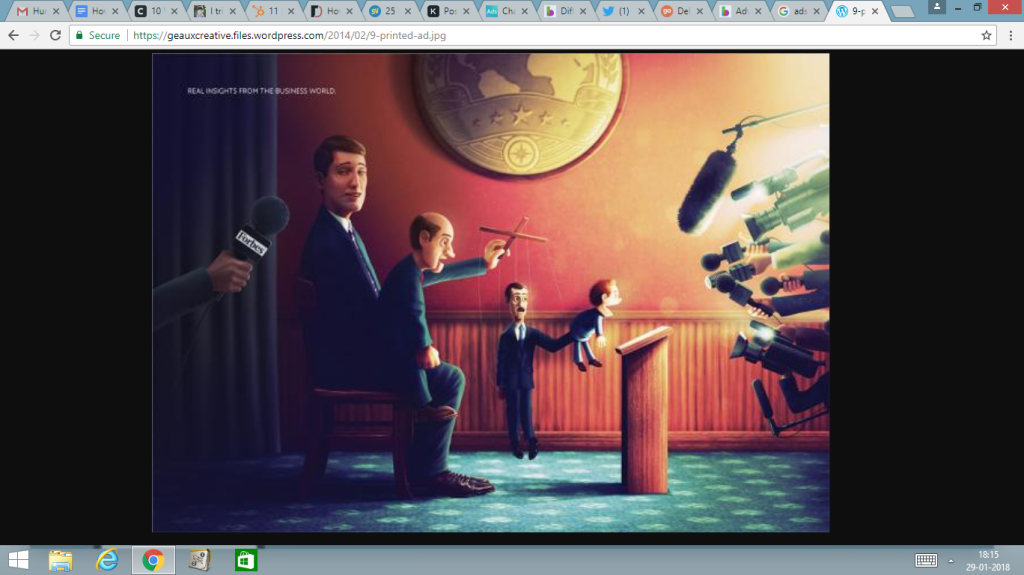 Source: https://geauxcreative.wordpress.com/
This was a print ad for the Forbes magazine. It takes a while for a person to understand the message here. But, if you look closely, you will realize that this is a depiction of how big businesses talk to the press. It is an interesting insight into the business world of the present generation. The ad has a story and also brings in an element of satire in a rather humorous manner.
Lure customers with imagery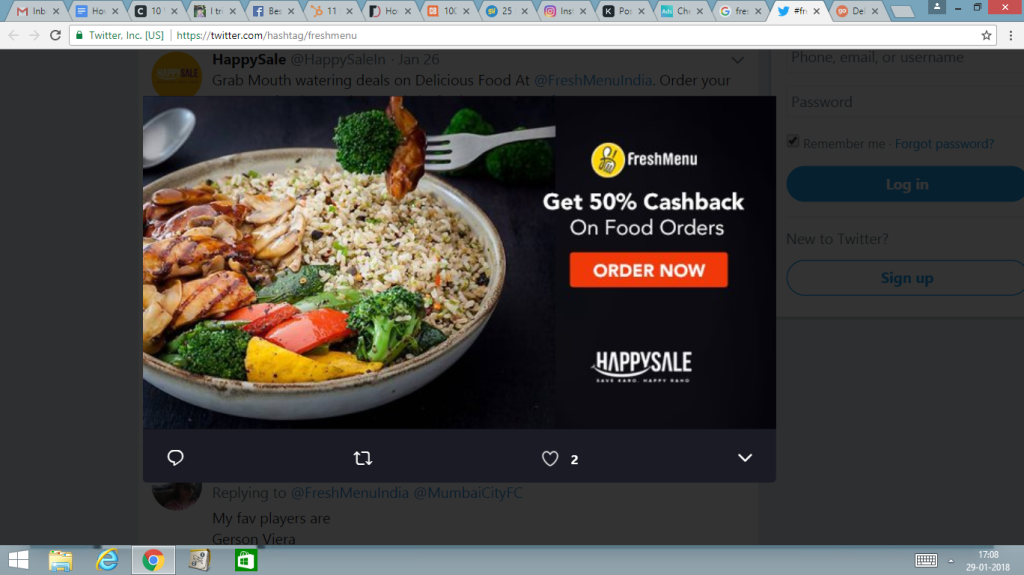 Source: https://twitter.com/hashtag/freshmenu
Another cool way of getting your customers to notice you is by using interesting images to lure them. This works best for food companies in the e-commerce sector particularly. The Freshmenu ad in the above screenshot uses food items on their menu to get their target group drooling. The images itself are so good that you can't help but try ordering their food at least once. Especially, for corporates who deal with high-stress levels, seeing these delightful ads on their Instagram page creates an immediate call-to-action.
Throw in elaborate facts and benefits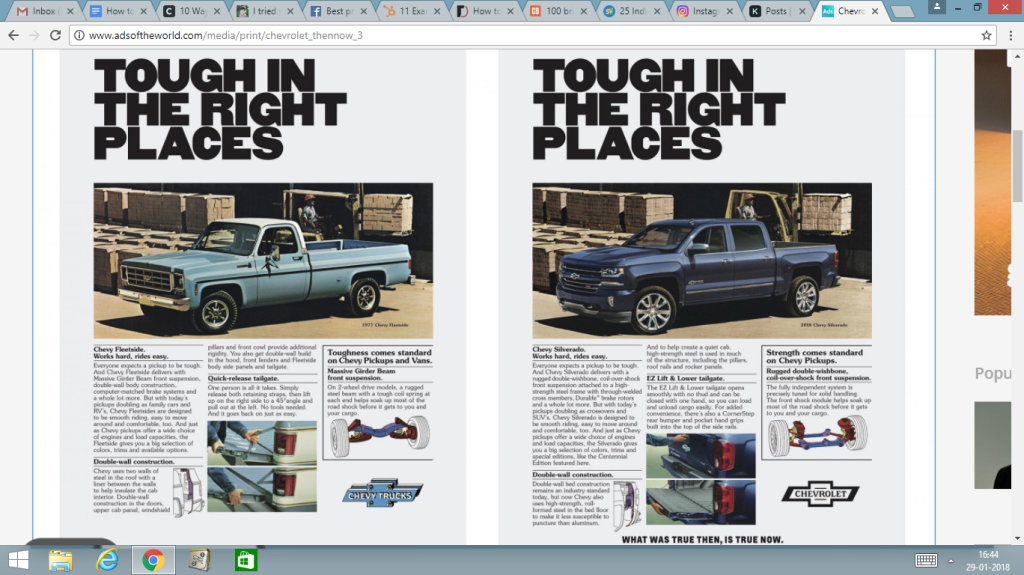 Source: http://www.adsoftheworld.com/
Certain products like cars, washing machines, and computers require customers to invest more time in research and decision-making. Unlike FMCG goods, buying these products and services is not an easy task. In such cases, long and elaborately research ad copies are an excellent way to communicate. Let's take a look at the above Chevrolet ad. It uses important facts to tell their customers about the durability, quality and functional benefits of the Chevrolet pickup truck.
Sell with humor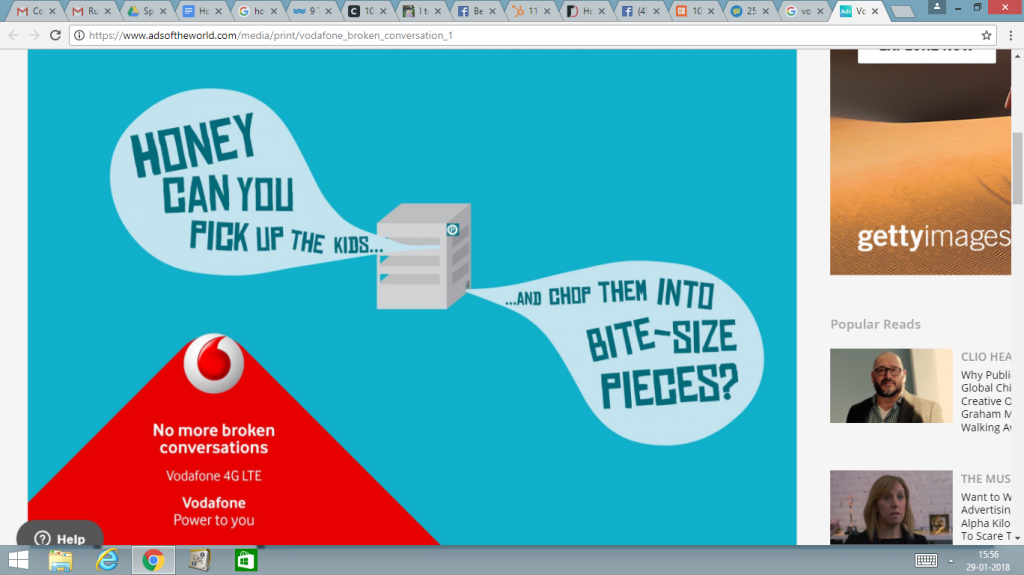 Source: http://www.adsoftheworld.com/
You would seldom find someone who doesn't like humor. Using humor in your ads can really grab the eyeball of your audience and create an approachable image for the brand. The information to be conveyed in the Vodafone ad above is simple – that you get better connectivity with Vodafone. But, the advertiser has used light humor to convey this added benefit of using Vodafone.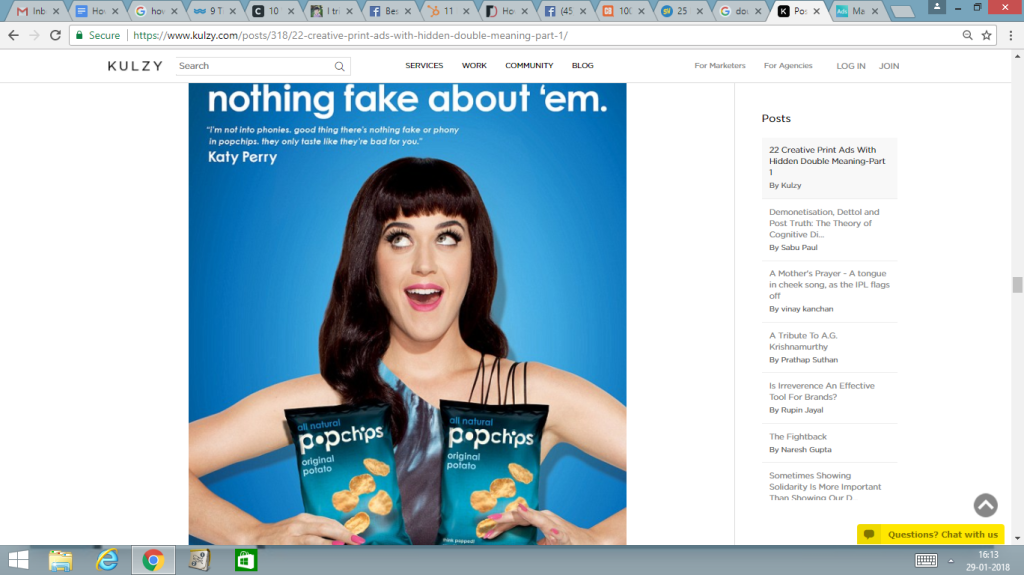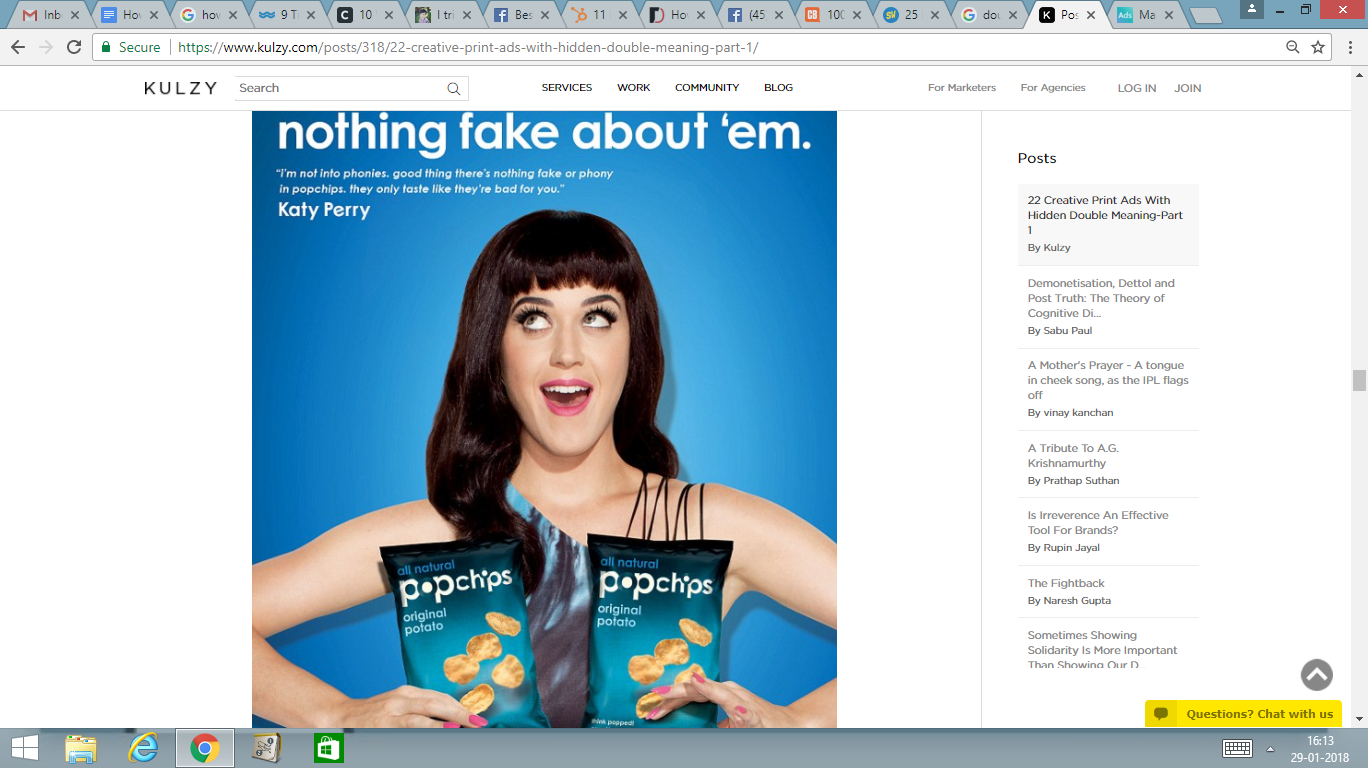 Source: https://www.kulzy.com/
The above ad may come across as too offensive for some of our audience. But, the ad makes an impact. The advertiser uses a rather upfront way of communicating about popchips. And Katy Perry is, of course, the cherry on the cake.
We hope these tips on advertising content writing will help you write effective ad copies. If you wish to know more about writing for advertising, then refer to our previous post on the same.