Different stages of content marketing funnel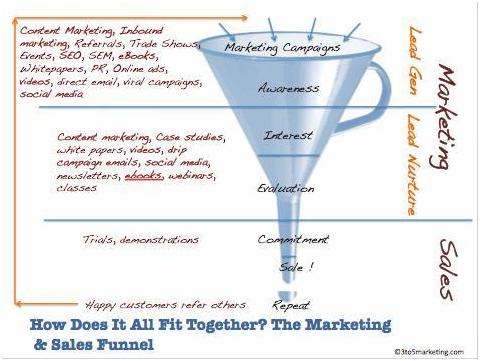 Source: c1.staticflickr.com/6/5298
Do you think content marketing for businesses is all about blogging? Well, this is a common myth and not a fact. Blogging is just a crucial part of content marketing. Most entrepreneurs assume that they can convert visitors only through blogging. However, it is important to have a good B2B content marketing plan that includes a content marketing funnel.
A content marketing funnel is similar to a sales funnel. It makes use of content to convert visitors into customers. The professionals doing content marketing in India divide the content marketing funnel in three stages. All the different stages of this funnel attract different segments of your target audience. The different stages of content marketing funnel are:
Top of the funnel (TOFU) content marketing
The top of the funnel content marketing facilitates awareness of your target audience. TOFU content marketing includes all the stuff that first-time visitors go through – the most common type of content that is seen on the web. The type of content that you should use for the top of your funnel are:
Blog posts

Infographics

Audio/video podcasts
Middle of the funnel (MOFU) content marketing
In the middle of the funnel, things begin to get more engaging and interesting. The main aim of MOFU is to nurture relationships. When a person has become your blog reader, you should compel him to explore the rest of your B2B content marketing funnel. With the help of MOFU, you can convert your blog readers into email subscribers. In the middle of the funnel, these are the types of content you can use:
Webinars

Discount offers

Free reports, e-books, guides

Whitepapers

Software downloads

Educational resources
Bottom of the funnel (BOFU) content marketing
This is where you actually transform your visitors to customers. Following are the types of content that BOFU should include:
Customer stories

Webinars/events

Demos

Free trials

Comparison/spec sheets

Mini-classes
If you want to succeed, you should not only focus on blog posts but also on your entire B2B content marketing funnel. You must ensure that your visitors go down the funnel carefully without tripping. . The types of content in your content marketing plan should be different for all the three stages. Also, the voice and tone of writing should change based on the different segments of your target audience. This is the content marketing plan that you need to have in order to convert your website visitors into customers.