Social media for business – How to write a professional bio for social media channels
You are a chief executive officer of a general insurance brand, or you may be a lawyer specialising in corporate law. But, what more? This is a typical scenario when an individual sets out to summarise themselves in a few sentences.
In a world, where we are known by our professional titles, we often find ourselves struggling with words to write about ourselves. And, this gets harder when you have to confine to 140 characters only!
You cannot ignore the importance of social media for business. Social channels like LinkedIn, Facebook, and Twitter, not only help you extend your brand reach but also help you portray expertise and build trust among your network. And, having a good social media bio is the starting point. If you've tried your hands on writing a bio, then you must have come across advises like 'the perfect bio sets you apart but still makes you approachable' or 'it's professional but can do with some creativity'. We've compiled some useful tips that can help you write a professional bio for your social channels:
Discover Yourself
Source: giphy.com
Nowadays, we hardly have time to contemplate on ourselves to know who we are. Knowing what we do professionally is great, but you need further details to describe yourself in your bio. An impressive bio lets people know you in terms of your goals, accomplishments, qualities, and expertise. Such a bio succeeds in building reliability amongst your audience and network. Ask yourself these questions:
What is your vision and mission?

What have you achieved through the course of your career?

What do you currently do?

Where does your expertise lie?

Who are you as a person in general and what all do you love to do in your free time?
Understanding these aspects will give you enough material to craft a compelling social media bio.
Figure Out Your Objective
In addition to knowing yourself, you also need to figure out the objective of writing a compelling bio. After all, you're going to spend enough time contemplating on the matter and crafting the language. And, if it doesn't serve the purpose, then it's of no use. Whether you're the face of your company and wish to showcase expertise or you are looking for opportunities to grow, your objective will also form the basis for the matter and the language to be used for your bio. If you're not sure about the language and tone usage, you can connect with a content marketing agency.
Stress on Actions
So, you're pro at marketing? That's great! But, where's the evidence to back it up? Actions have a greater impact than words. But, since words are your friends here, use action verbs to create that impression. Don't only stress on achievements, but also talk about how you went about achieving. Focusing more on the way you accomplished your goals will also provide evidence to the claims you make about yourself in the bio.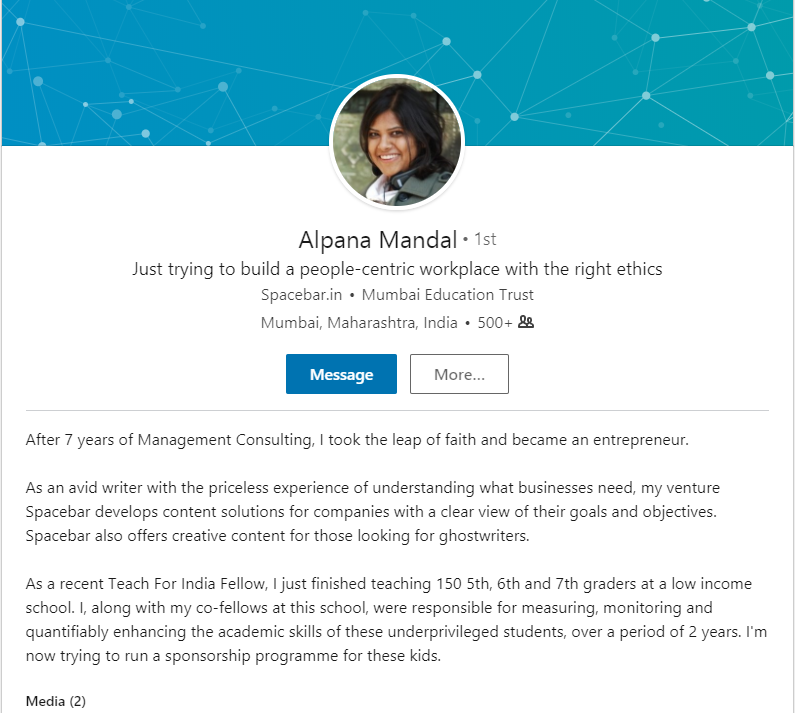 Be Fresh and Creative
You must have come across terms like 'I am a social media guru' or 'a travel junkie' when browsing through profiles on social media. These terms, which were once loved, become cliché when everyone starts using them. In other words, when they are commonly used, there's no aspect of these terms that excite people. Language plays an important role in making your bio interesting to the reader. Avoid such buzzwords. Go creative. But, don't go overboard. A simple bio that uses the right words and language will win the heart of your audience.
Don't Forget Keywords
'Write from the reader's perspective' is one of the elements of content writing. Whether your motive is to attract recruiting managers or want to cultivate faith amongst your customers, the words you use will have a great impact on the end result. Thus, it only makes sense to use words relevant to them. Tailor the words specifically to your audience. Don't go very casual or act cool, focus on your expertise and your end goal. When you use words that are commonly used by your audience, then your profile also becomes easily searchable.  
Get Personal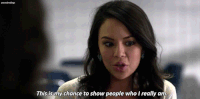 Source: giphy.com
Eventually, whether it's the associates, prospective customers, or employees, they'll be working with you. Apart from your professional role and accomplishments, your audience wants to know you as a person. There's no doubt that they'll be interested in knowing you as a person. Think of what defines you. Are you an avid photographer or are you a problem solver? It won't hurt to add a line or two about your hobbies and things that capture your interest.
So, here's how you can go about writing a professional bio. Today, social media is brimming with businesses from across the world. And, a professional bio can play a vital role in making your presence on social networks a success. If you're still unable to come up with an impressive bio, then we're here to rescue you. You can get in touch with us for all your content needs!