5 types of content for your website
When you plan a content marketing strategy for your company, the website is the first thing that might come to your mind. Almost every organization has a website which communicates with its audience and conveys information about the company. There are numerous ways through which you can convey information or prepare content for your site.  Let's take a look at 5 different types of content for your website.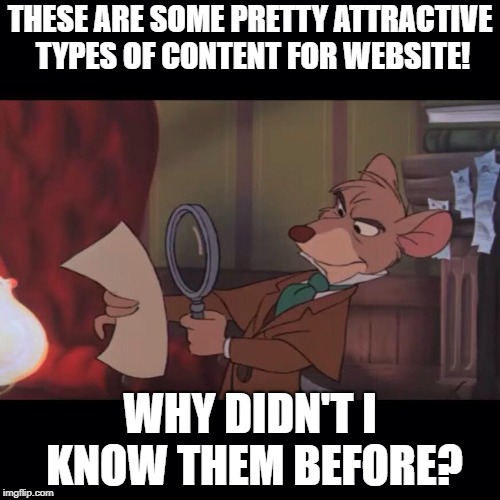 Image source: www.imgflip.com
Blogs
Blogs are a popular type of content on your website. A blog is known to be reader-friendly. Blogs are considered to be ideal to build a relationship with a user. This relationship can help you acquire new leads and eventually result in increased sales for your company. Regular posts about different topics can allow you to cater to a broader audience. When posting a blog content for your website, ensure that the information is authentic and there is no plagiarism. A website's ranking can suffer if the information in the blogs is found to be plagiarised.
Infographics
As it is said that "an image speaks a thousand words," infographics do the same by informing people about specific things. The infographics can be anything from stats to products and services offered by your company. When creating an infographic, you should always take into consideration that the infographic should convey maximum information in minimum words. Infographics should be created in such a way that a reader or a viewer does not get overwhelmed with too much information present at his disposal.
White papers
This type of content is considered to be packed up with detailed information. A white paper is primarily focused on providing a solution for a specific problem and how your company can help. As they are detailed, white papers assist in generating substantial leads. This type of content is packed with detailed information, and it may take too long to write. Another benefit of using this type of content is that it is precise in conveying the information.
Videos
Readers and website visitors want to interact with something that is appealing and engaging. Video content is similar to blogs, but this type of content is more engaging. Video content can be combined with online marketing campaign and social media marketing campaign as well. Videos can also bring a substantial amount of positive leads for your organization.
Newsletters
At times people are curious to know about your company's progress. With a newsletter, you can efficiently publish the updates on your website that can be read by your audience. This type of content on your website can reassure your clients and prospects that your company is doing well and holds the caliber to finish projects on time. You can also publish your organizational milestones for the readers to know with the help of newsletters.
You can choose from any of the different types of content for your website and add it to your content marketing arsenal. Training your content writers on the kind of content you want to generate can also be immensely helpful. Feel free to contact us to help you with the job of creating outstanding content that can generate positive leads.